By 2023, TVFF will be a provider of comprehensive Youth and Community Development services in Chicago and Cook County. TVFF's Model will be assessed internally to maximize coordinated and collaborative services
By 2025, TVFF will be recognized and sought out in Illinois and the Midwest as a preeminent Youth and Community Development agency, serving youth, training residents, and empowering communities. TVFF will have a proven-effective methodology that will allow youth, families, and communities to transition from being "at risk" to "at-hope."
By 2025, TVFF will be recognized and sought out nationally as a premier provider of proven-effective Youth and Community Development services targeted for at-risk youth and communities. TVFF's youth and community participants will serve as ambassadors, living examples of how TVFF's Model transforms youth and communities from "at-risk" to "at-hope" and, ultimately, to respected, contributing members of society.
Nearly 1000 youth are served annually through TVFF's FREE initiatives which are our Youth Leadership Academy, serving school-aged children first thru sixth grades: and, our Teen-Initiatives, serving youth junior high thru high school. Both initiatives have a strong youth leadership emphasis and offer activities that support safe, healthy group identities and holistic development. This runs counter to the gang-oriented, street culture.
Participants choose alternative cultures in TVFF's programs promote fun, positive interactions; active, autonomous youth leadership; engaging, age-appropriate activities; affirming adult relationships; productive program "citizenship;" and, purposeful community actions.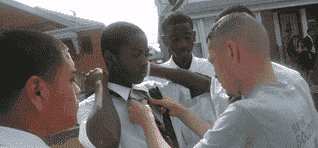 Also, another 300 youth are engaged in off-site activities during the year. TVFF' initiatives support spiritual, social, and academic development; provide needed structure, opportunities, and, training; connect youth with people and resources; and, foster a "winning" attitude critical to success. Program initatives are as follows:

Youth Leadership Academy
After School Program
Community Service
Junior Leadership Corps
Social Development
Sports & Recreation
Teen Leadership Training Institute
Daily Drop-In & Development Center
Faithful Steps Performing Arts Group
Financial Training
Teen Advisory Council
Community Task Force
Neighborhood Peace Actions
Sports & Recreation
Entrepreneurial Training